Bringing the fun of a Apres session on the slopes of Val Thorens to the South Coast of England – sound crazy? That's exactly the task we took on when delivering The Apres Terrace to Bournemouth's Christmas offering with our friends at Seventa Events.
Having supplied the Bournemouth Christmas Market with its famous two-storey Alpine Lodge , Chalet Huts and so much more over the past 5 years, we were shaking our collective belly like a bowl full of jelly when we were invited to help deliver The Apres Terrace for Christmas 2022.
Making its home in front of Bournemouth's iconic Pavilion Theatre and overlooking both the Christmas Tree Wonderland and Pier Approach, The Apres Terrace would deliver all-weather festive fun for the whole family and complete a Christmas offering that saw Bournemouth lead the way when it came to festive offerings in the South of England.
First up was the return of our fully heated festive Domes. Having previously been used at both Exeter & Bournemouth's Christmas offerings, we were delighted to expand the dome offering with 10 of our domes providing the perfect setting for friends and families to enjoy a festive and cosy setting whilst overlooking Bournemouth's illuminated Lower Gardens.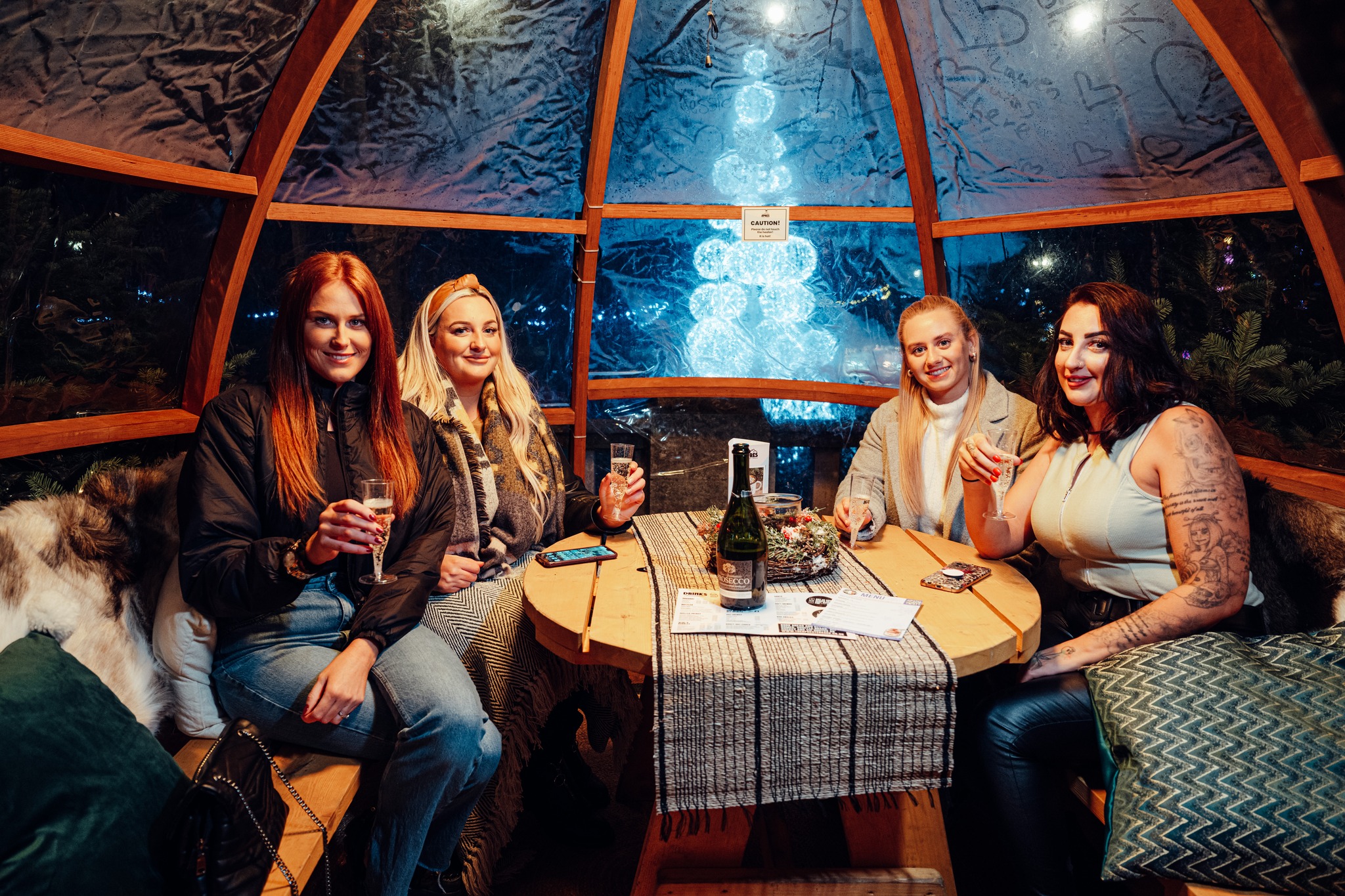 Our fully heated domes providing the perfect Winter dining solutionWith the Domes providing a relaxed and winter warming experience our thoughts turned to the second part of the brief; to create a pop up area complete with winter games, selfie spots, a vibrant bar and the perfect setting for Christmas Parties (photocopier not included).
Famous for having more ideas than Santa has presents, our team had just what Seventa needed to help bring their brief to life!
Indeed, our all-new Shipping Container VIP booths  were combined and covered with our weather proof Stretch Tent to create an area capable of housing up to 200 guests.
With our Container VIP booths and Stretch Tent providing the base, it was time to bring the area to life as Seventa combined our Picnic Benches and Colourful Oil Drums with a selection of Air Hockey, Table Football and Shuffleboard tables to create the ultimate festive party pop-up space.
Leaving no stone unturned in bringing an authentic Apres Ski offering, we were delighted to take delivery of x8 authentic Ski Gondolas, fresh from the slopes of Germany, to help create instagrammable and all purpose seating for the area. After wrapping and adding Ski Props their exteriors, it was a pleasure to see how well reserved and practical these proved to be.
With 1000s of thirsty and hungry patrons joining the party throughout Christmas, we were on hand to provide the ideal Food & Beverage solutions as our 20ft Shipping Container Bar and The Street Kings Food Truck  were on hands to deliver all the festive tipples and delicious street food required.
With the season at a close (and the whole team festively plump with Street Kings Festive Burgers) , we could not have been happier to see our props, furniture and container bars help deliver a hugely successful Christmas offering for Bournemouth.
Bring on Christmas 2023 where we look forward to working with Seventa to keep evolving Bournemouth's Christmas offering to deliver the best set of festive pop-ups and events on the South Coast!